FREQUENCY RANGE DC - 65GHz
ACCURATE MEASUREMENTS WITH MINIMUM EFFORT
ABM is a Broadband (wideband) Electromagnetic Field Meter. ABM is designed to measure and control the field strengths in compliance with personal health and safety regulations/requirements in according to international limits (ICNIRP, IEC, IEEE). ABM allows accurate measurements in real time with minimun effort for the operator.
CHARACTERISTICS

Broadband Measurement (DC - 65 GHz)
Interchangeable Plug&Play Probes
High Measurement Stability
High Dinamic Range
Multi datalogger 24H (up to 2 million records)
GPS receiver integrated
Temperature & Humidity sensors available on board
Compact and Light (300g only)
Operation time > 5 days
Rechargeable Battery
Anti-shock protective cover

Telecommunication & Broadcast
Military & Defence
Aeronautical
Railway
Energy
Automotive
Industry
Medical
EMF Worker's safety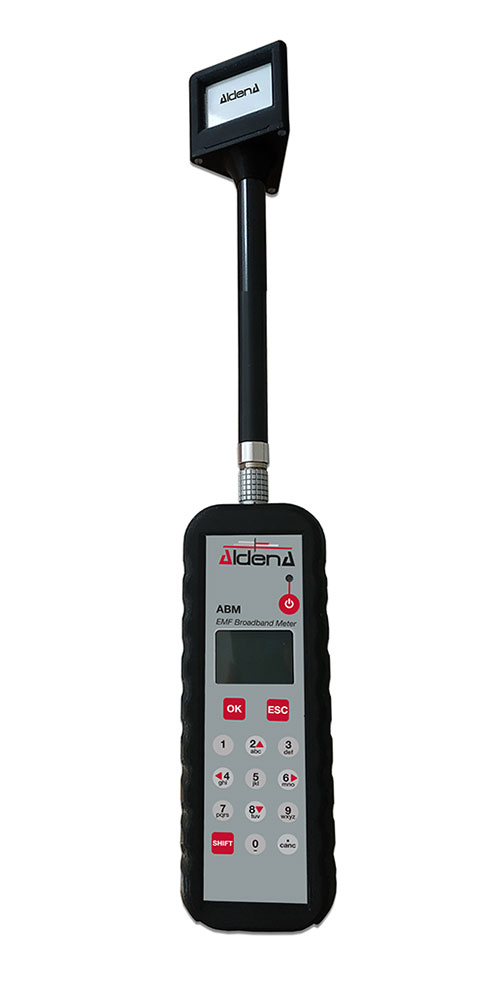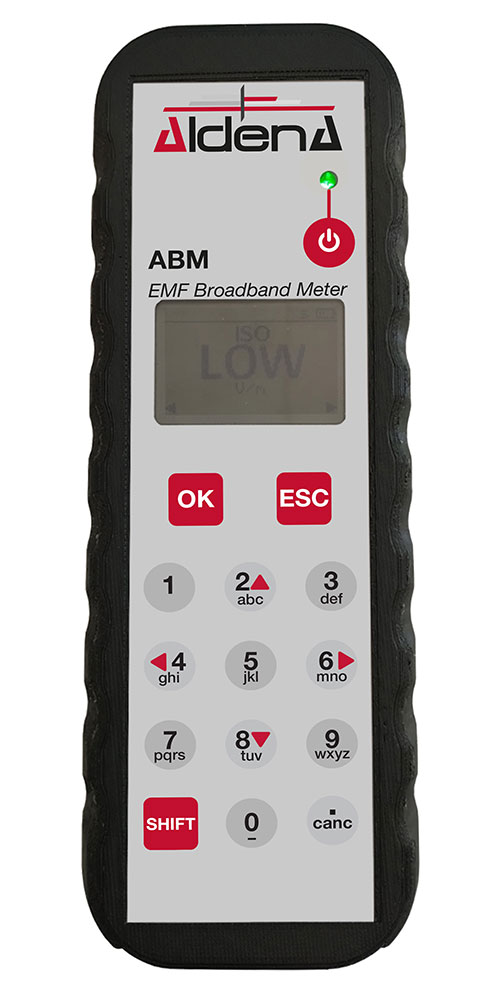 STANDARD CONFIGURATION
USB cable for PC connection
Standard calibration certificate (or ISO 17025 on request)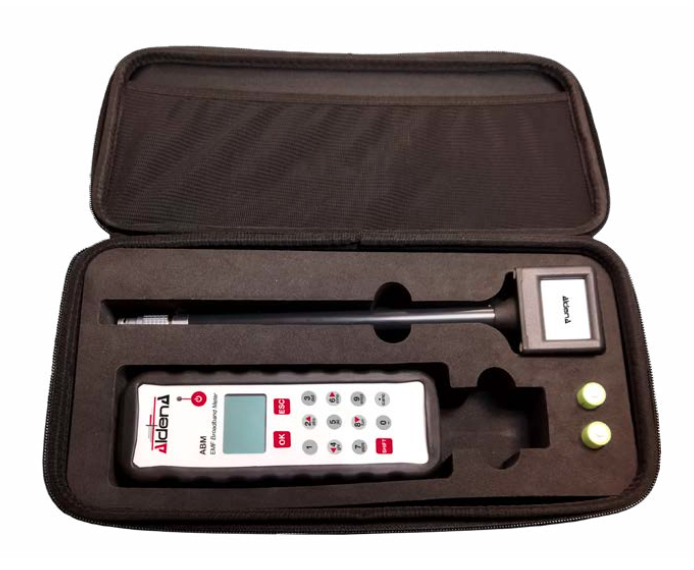 COMPATIBLE FIELD PROBES
ALDENA provides a full range of E-Field/H-field probes covering different frequency ranges. Probes are plug&play, with individual calibarion certificate.
ABM SOFTWARE
The software used in conjunction with the ABM meter, provides an intuitive real-time management of the meter.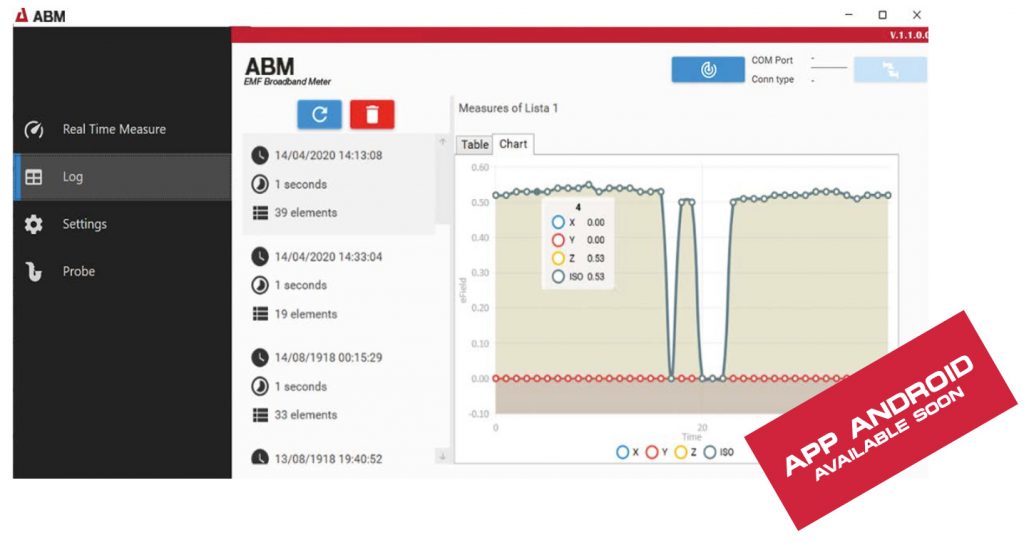 ACCESSORIES

Fiberglass non magnetic and non reflective tripod. Extendable up to 2m.

Universal adapter of 1/4"

Positioner for H/V polarization

Telescopic support up to 4m

Shoulder bag for the NMR-01 tripod
FIBERGLASS NON MAGNETIC AND NON REFLECTIVE TRIPOD
FIELD MEASUREMENT

0,3...1000 V/m (depending on the probe)

DC...65GHz (depending on the probe)
DISPLAY

1 sec (typical 90% of the measured value)

Total value X;Y;Z; Isotropical
KEYBOARD

For setup and configuration
ALARMS

Flashing red light for settable limit exceeded in V/m (or A/m)

Acoustic alarm and vibration on limit excess
DATALOGGER

10 s, 15 s, 30 s, 1 min, 2 min, 5 min, 6 min, 10 min, 30 min, 60 min

Manual or scheduled (multi datalogger available)

More than 2 million records
INTERFACE & CONNECTION

Serial full duplex; for real time data reading

For connection with APP Android (optional)

Updating FW; batteries charger

LEMO TM connector with automatic probe identification
BATTERY

AA Alkaline or rechargeable (NiMH @2,6A/h) (2 pcs included)

> 120 hours ( typical; with GPS, Bluetooth and low power display)
WEATHER CONDITION

5...95% without condensation